What ? Okay I don't actually know, but that's why I asked. Went to the Göteborg Botanical Gardens yesterday with my wife, but no one there knew either. In fact they were cutting down many trees and shrubs and removing them. I alluded to this problem in yesterday's post
Here
. But I have all the photos for a gallery of sorts and at least it will be documented. I went out today in another part of the city and the same thing. Wholesale death of anything
Cypress
,
Juniper
,
Cedar
or
Thuja
. I mentioned that it looked very much like
"Fire Blight on Steroids"
, or perhaps a type of
"Sudden Conifer Demise Syndrome"
.
This is bizarrely reminiscent of what took place last year here when most all fruits trees and fruit bearing shrubs in both the wild and urban landscape had zero fruit or at best very little with blight on the skins. Most all of the Deciduous trees were attacked one way or another by disease or insect, bot in gardens and the wild forests. Gardens I understood, but out in the wild ? This is almost unheard of from my own experience. Plus, that phenomena last summer was NOT localized to here, it was all over the northern hemisphere Boreal Forest locations in Europe Asia and North America. I know because I researched it.
Anyway, below here is the gallery of the dead trees almost everywhere in and around Göteborg Sweden. Neighbours who have traveled to other cities and regions south in
Skåne
tell me the same thing is taking place elsewhere. This was taken on one day only on a specific trip to Botanical Gardens and back home. Understand that all along the trip there were literally hundreds of other examples. These were taken as close to my route as possible. Something will be said about this in the future I'm sure, but I have some suspicions.
Photo:
Mine
This photograph was taken outside of my door yesterday morning. This plant is actually my neighbours, but I'll offer to remove it. There is also another just on the other side of this next to their front storage shed and front door.
Photo:
Mine
And here it is. They look to be a type of Leyland Cypress, if you in So-Cal remember them. Such plants there is was common for them to exhibit this sad behavior once older. They didn't do well in heat. But this circumstance and climate situation is entirely different.
Photo:
Mine
This is an Apartment complex and every planter where there were Cypress or Junipers were dead or dying. This Trolley Stop which I had to make along the way was at V

ågmästaregatan.
Photo:
Mine
This is the next Trolley stop at Jalmar Brantinsplatsen. This is at the left side entrance of a Pedestrian Tunnel which is under a roadway leading to the Trolley Station.
Photo:
Mine
This is on the other side and the same completely dead condition. All four corners of this tunnels municipal landscape are identical with the dead miniature low spreading Juniper.
Photo:
Mine
Believe it or not I did read the identity label on this particular tree and this is an

Incense Cedar (

Calocedrus decurrens)

. There were many surprises that such a blight or pattern of disease would specifically hit anything of a resinous type of cone-bearing tree, with the exception of Juniper berry producing trees.
Photo:
Mine
These are other larger trees nearby the last one.
Photo:
Mine
This is a close up view of the foliage of a tree not yet dead from this disease whatever it is. The circumstances here are wet and I don't believe beetle related like in the western USA.
Photo:
Mine
This is what is scary. The Scots Pines are also in danger of losing out like all the other resinous trees and they are the largest of population of wild trees here.
Photo:
Mine
Here is another tree fully developed with the disease or whatever it is and almost completely dead. The grounds keepers were busy this day cutting down and hauling off the dead limbs, branches and trunks of these trees. Even trees not fully engulfed by this fire blight type of condition.
Photo:
Mine
Another example from everywhere we went in the Botanic Gardens
Photo:
Mine
And this was just one of the workers busy cutting things down and hauling dead material off to the maintenance yard where they dump and process all this stuff. I'm actually curious whether they will grind this up for mulch and reuse or burn it and dispose of it.

Not sure how please this guy was of me photographing him.
Photo:

Mine
Even tree species in the Redwood realm have succumbed. In the upper right corner of the photograph are the native Swedish Junipers found through the forest on rocky open areas where larger trees won't grow. They are everywhere dying. This is just one small example of 1000s of examples I could photo.
Photo:

Mine
This is interesting here. We actually walked over to Slottsskogen Park for a Coffee at Björngårdsvillan Cafe. Upon leaving, we walked by way of the Crab Apple Trees I wrote about a couple weeks back. These trees here are directly across the street from those Crab Apple Trees. They are Thuja trees (which look like exact miniature replicas of Incense Cedar - Leaves, bark, cones and all) Even the Crab Apple Tree leaves are looking pathetic with very little fruit this year.
This particular public corner planter is at our
Friskväderstorget Trolley Stop
. The bizarre thing here is the street side which is also the northern side is fried on both trees. This led me to speculate maybe it was some sort of winter
Street Salting
effects, but that has to be ruled out as all trees everywhere, even deep in the woods are succumbing to this
Sudden Conifer Demise Syndrome
. It's also not anything to do with freeze as everything here is engineered for freeze and this past winter was not that cold, nor was there more than a couple of inches when it did snow and then quickly melted off. I walk past here almost everyday from the Trolley Stop and it's sad to think they'll be gone some time soon.
Photo:

Mine
This is taking another route to my neighbourhood by way of a northern entrance. Here the neighbours with all manner of conifer are losing everything and it doesn't matter the species of Resinous evergreen tree or shrub.
Photo:
Mine
Finally here is another Thuja which is totally dead. In the background is the infamous iconic 1960s architectural design water tower. (ugh) But to walk through here and elsewhere in any neighbourhood and see all this is just so incredibly sad.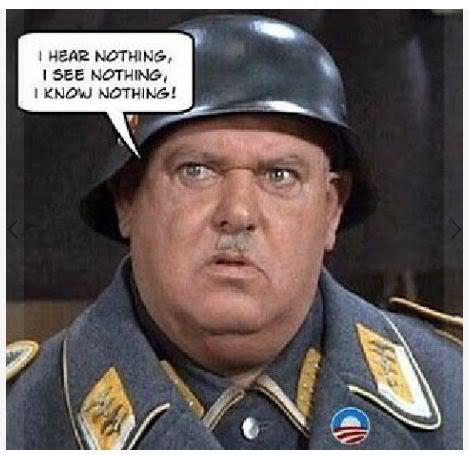 John Banner

as Sgt. Schultz
I honestly don't know what the answer is here. I see nothing written by any officials or other experts, only neighbours and citizens discussing the problem. Obviously the Göteborg Botanical Gardens are aware of it as they are doing a wholesale clearing of many of their former beautiful trees. I'll have to go back next week there and ask. It could even be acid rain and I suspect perhaps some of the junk being used in cloud seeding. Clearly the Garden Officials know something since they are conducting such a major house cleaning of the conifers throughout the Park. Still one wonders if they actually know on what scale this is happening even well beyond their Park Gardens ? There was no one available to speak other than workers who knew nothing and were only following orders. Hmmm, where have I heard that before ? Oh yeah,
'Hogan's Heros'
.
I'll keep even one posted and if anyone knows of anything on this subject or has heard of this phenomena elsewhere in the Northern Hemisphere, please comment.